In Clash of Clans, as you go up levels, you get to the latest town halls. Each town hall has its own design and features. As you proceed to the next town hall, you will see these changes. When you are in town hall 8, you will get the Dark Elixir drills. This is the machine using which you can harvest Dark Elixir. The cool part is that you do not even have to raid to get these elixirs in this town hall. As far as storage is concerned, you can add one for gold and for Elixir. These and many other strategies are there for COC builder base TH8.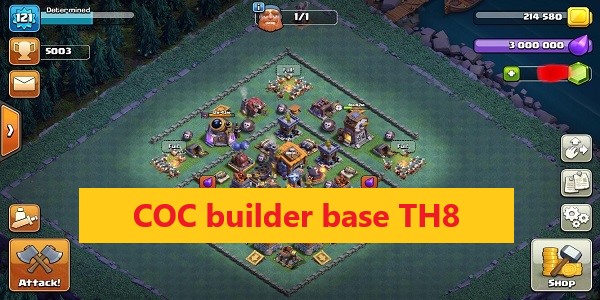 In this town hall, you also have the ability to add Dark Barracks. The building time is a bit slow but you can speed it up if you have gems. It takes you 8 days to get to this town hall so you must upgrade all your things before getting it. When all your other things such as buildings are troops are upgraded, you are better equipped to deal with whatever is going to come.
Defenses in Town Hall 8
In this town hall, you have high defenses because you need to keep it your town hall safe from the enemy clans. You have 2 more air bombs and one archer tower. You also get 50 walls. Walls are the strongest defense in the game as they have a very high hit point.
This means that they do a good job of keeping the enemy out. You also get a wizard tower and a giant bomb. All of these things can be used against your enemies to keep them out.
To make your own clan, you can partner up with players from around the world or get your own friends to be your clan member. Together, you will be able to save your village.