In town hall 7, things are different from the previous town hall. You get new defenses and there are also new features that you can avail. It takes six days to get to this town hall and an XP of 3200. Before you upgrade your town hall, make sure that your troops are updated too so that you can deal with whatever is going to come in this new level. A lot's coming up in this article on COC Builder Base TH7 so let us begin!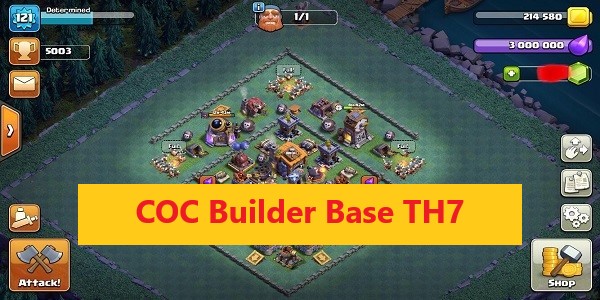 In this level, you do not get more gold and elixir. Instead, you will gain access to the Dark elixir and barracks. Using these elixirs, you will be able to make powerful units in the game. You can make more barracks on this level and you will also be able to make an army camp.
Also, See COC builder base TH8
At this level, you will get a dark elixir by raiding other players or stealing it from others. When you go to the next town halls, you will get drills that you can use to get the elixirs instead of raiding others.
Th 7 Defense:
In town hall 7, you also get defenses that you can use to keep your village protected from attack. The new defenses that you get in this town hall are:
Seeking air mine
2 teslas
Other than that, you also get 2 cannons that you can use to destroy your enemies. Bombs and air defense are also used for the same purpose. An archer tower is also attained from where you can attack your enemy.
Using these defenses, you can keep your village safe. If your town hall gets destroyed, your opponent gets a star. So, it is very important to keep this building safe. In this town hall, there is a small battlement on the corner of the roof. It has a wooden floor under which arrow slits are present.